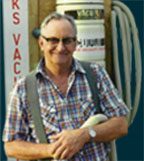 A unique history, the business has been passed down three generations. But business wasn't the only part that was passed along...
Central Vacuum System with
RETRACTABLE HOSE in each inlet.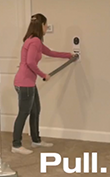 Frustrated with your long, central vacuum hose? Hide-A-Hose may be the answer.
No bulky hoses
Simple, easy cleanup
New and existing homes
Welcome to A Plus Oaks
With over 50 years of experience, A Plus Oaks has an established reputation selling and servicing vacuum cleaners. Our honest and friendly work ethic demands our best service for you, your home, and your vacuum cleaners.
We have installed central vacuum systems into a wide variety of homes. See our broad experience installing in many types of houses.
Think We're Too Far Away?
We reach Maryland, southern Pennsylvania, and D.C. through two locations: Bel Air, MD and Rising Sun, MD. We spend half our time at each location—and another half on the road! Call our toll-free number, 1-800-233-1739, for either location.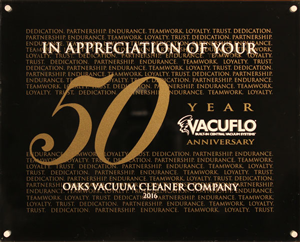 Plaque from VacuFlo, Celebrating 50 Years as a Dealer!